As we come out of the Valentine's Day weekend, especially as it fell on the infamous dating day of Saturday, what's your take on Valentine's Day?  It seems some of us like to mark the day with something special with their significant other in the thoughts of professing their love for each other.  Some despise the day as it's a highly commercialized day of gift giving, dining out & everything that's fancy.  And, the rest – like me – move pass the day as it's another day without any significance to me and hubby.
As Facebook has made it possible for all to have their opinions advertised and shared with dozens of friends in a matter of hours, my Facebook Friends too have a variety of opinions ranging in the above mentioned.  What's your take?  Where do you fall on the range?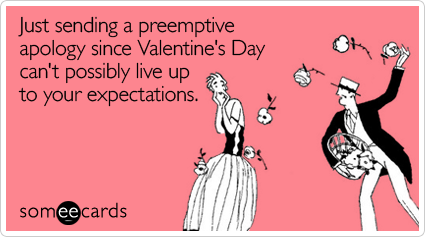 Women who fancy Valentine's Day go through the day, maybe even the week, with a list of expectations for their partner to full-fill as a testimony of their love.  Do you belong here?
Some men and women despise the day for its commercialization as well as the the obligation and pressure it brings on to those in or out of romantic relationships.  You belong here?
The rest of us are quite nonchalant about the day, but love the discounted chocolates on Feb. 15th. This is me!
~Anushiya