Pantene, the shampoo brand, has a campaign out called "sorry, not sorry" claiming women apologize too much and should be 'strong and shine' instead.  Here it is for your viewing pleasure: Not Sorry/#ShineStrong Pantene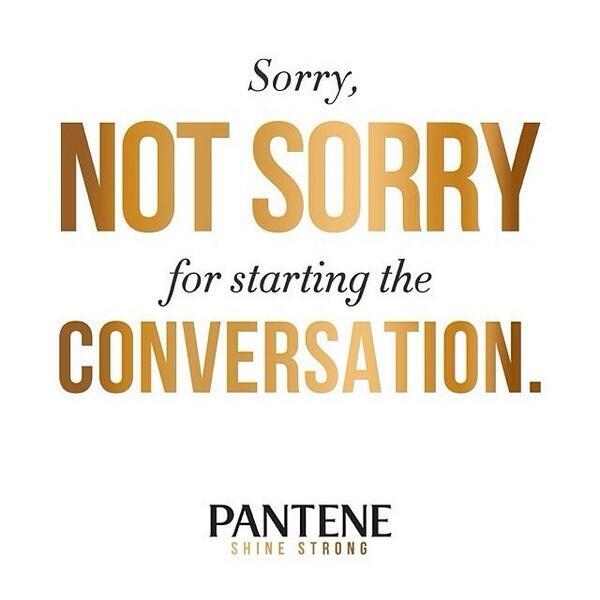 The first part of the one-minute video is sure to remind any woman (well, at least most of us) of herself if she is the polite kind.  However, I find the second half – where the same characters are being more assertive, taking charge and less courteous in some instances instead of just blindly apologizing – a bit of a generalization.  Yes, in the board room, the woman is more assertive and taking an equal place in the meeting in the second part.  However, in other instances, isn't it just courtesy that the characters are practicing in the first part of the video, as most of us – women and men – interchange "excuse me", "pardon me" and "do you mind" with "sorry"?  Are we to be rude or less courteous in the name of being strong?  Are they mutually exclusive?  It is considered to be a 'Canadian-thing' to be extra nice and courteous or just as likely a 'woman-thing' to be empathetic, nurturing and even more compromising in domestic situations.
Just as it was pointed out in an earlier post, "What is a boy to do?", is this another phenomenon where the scale is tipping too far in the opposite direction?  I think everyone, especially women, can be courteous while being strong and assertive; can be kind and empathetic while aiming for equality; and be nurturing and humble when taking charge.  We are living in a changing world where stay-at-home fathers aren't a unique phenomenon, men taking paternity leave is more common in workplaces and women being loud and upfront about their fertility choices are the common place.  Feminism and gender equality have made today's women's circumstances (especially, in North America) much more comparable to men's.  So, why the negativity?  Such expressions are the exact reasons many women label themselves as anti-feminists today as they don't want to be associated with the negativity, bitterness and man bashing ways which are the common features seen as that of a feminist by a regular Joe/Jane.  Is it ok to encourage ill-mannered and offensive ways in the name of strength and equality? Bad behavior is just bad behavior in any circumstance and by any male/female, isn't it?
~Anushiya